Why did I start this blog?
I started this blog while trying to figure out how to take the surf mamas group to the next level. There is so much interest in the idea of surfing while trading babysitting duties that a simple meetup.com site didn't seem to be enough. I'm hoping a blog and website will provide interesting, useful, and super fun information for people who love the ocean, surfing and a healthy lifestyle. There is more to me than being a mom and surfing, so I'm also hoping this blog will be an outlet for me personally in several ways…!
Who am I, anyway?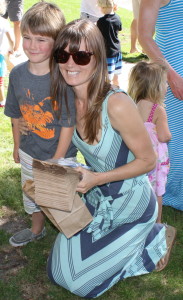 My name is Deanna Meier (formerly Pinkard). I'm a native Californian, currently settled in Cardiff-by-the-Sea with my little family (and many pets) in a little house. I was a marine biologist for many years, but for the past 10 years I scaled back my professional work to shift gears to another kind of very important work- being a mom. I now have 2 amazing sons, Gavin and Damian. I work part-time, teaching about the ocean and the science of life at several San Diego universities, although I am increasing my work load towards full time. I continuously try to find balance between my work and family life, while still enjoying time to myself, specifically time in the ocean. My husband and I actually have to schedule our individual time each week (usually surfing). This method works well for us, so we're sticking to it!
Other Contributors 
Fellow surf moms have promised to contribute to the blog and website, so I will update with their info as they add some stuff!
Thanks for reading and sharing your thoughts! Please feel free to contact me to network, provide ideas, critiques (not too much, though), or anything else related to this site.